The Yoga of Meditation:
The 3rd Chapter of Patañjali's Yogasūtra
Meditation is the most powerful of Yoga's many practices. It is the core tool of the transformational process of Yoga described by Patañjali in the Yogasūtra. Chapter 3 explains Yoga's approach to meditation including the what, how and why of meditation. If we read and discuss Chapter 3 word-by-word, sūtra-by-sūtra, we learn a lot about the practical application of meditation and its importance in Yoga practice.
At the Yoga Well Institute, we believe that Yoga is first and foremost an experiential study. It is meant to be embodied and applied in our everyday life. We practice on the mat and on the cushion so that we can actually implement Yoga in our relationships and life. We believe textual study is essential for all practitioners. If you want to "walk the talk," you have to know what the talk is. Text is talk.
We also believe that, just as the Yogasūtra has been passed down from teacher to student for 1700 years, it is important to study the text with someone who has been trained in the experiential application of the text in their life. There's a lot of experiential knowledge in that transmission! Translating the text into English without also translating the principles into real concepts that can be applied in your life today is missing the point of studying the experiential science of Yoga!
Beginning March 14th our Director, Chase Bossart, is excited to be teaching Chapter 3 of Patañjali's Yogasūtra again. Every week for approximately 16 months, Chase will translate the text, word-by-word from Sanskrit to English, and explore and discuss the concepts found in the Yogasūtra allowing you to see their real world applications.
Topics that will be covered include:
Anatomy of the different stages of meditative experience.
How meditation actually transforms us and helps us develop clarity.
Different categories of meditation objects.
How to think about approaching the selection of meditation objects, including understanding the process of change and how to utilize it for both transformation & realization.
Understanding what is possible through meditation (and what is not!).
Understanding the goals of meditation.
Chase has been studying Yoga, Sanskrit and practical philosophy as a student of Mr. TKV Desikachar for more than 20 years. He is a sincere practitioner and dedicated teacher of Viniyoga. It is Chase's firm belief that the study of ancient texts and yoga philosophy are essential to practicing yoga as a way of being in the world.
Class starts on Thursday, March 14th, 2019 live online at 5pm PT (8pm ET) for one hour. By participating in the live online classes, you will be able to share your personal experience as you integrate what you're learning into your daily life, and learn from your peers as they do the same. This level of participation means that the student experiences control the pace of program. To go word-by-word in translation and study, the class is expected to take between 14-16 months. All classes are recorded and available online within 48 hours of the live class, so should this time not work for you, or you need to miss a live class, you will have access to all past classes to rewatch as you feel the need.
As an enrolled student in Chapter 3 of Patañjali's Yogasūtra, you also have access to the Yoga Well Institute private online community where you can ask questions and connect with other students who have, and are currently, studying Patañjali's Yogasūtra.
---
Noteworthy
Because of the nature of the content, there are two prerequisites for this course. To participate in the course, you must:
Have completed a word by word study of Chapters 1 and 2 of Patañjali's Yogasūtra with a teacher in the viniyoga tradition, and
Maintain a daily yoga practice under the ongoing guidance of a yoga mentor (click here for help finding a mentor if you don't have one) throughout the course.
Please Note: Webcam is preferred, but not required to participate. A dial-in option is also available.
Access to this Course
As soon as you join you will receive access to the weekly classes for Chapter 3 of Patañjali's Yogasūtra, access to our private online community, as well as supplemental resources.
On the first of each month, we will update the Class Invitation information in your online Student Portal, which you can use to join the classes live at 5pm PT (8pm ET) every Thursday. Within 48 hours of class, the video recording will be available along with any handouts mentioned.
There are two options for investing in this course:
A one-time payment of $1,697 for 2 full years of access to the course, a 20% discount on the entire course.
Monthly payments of $127, billed automatically. Your payments stop after 16 months and you keep access to the sessions for another 8 months, giving you a full 2 years to study and develop your practice.
Your life is not going to suddenly shift into a perfect world, because, after all, this is life. However, the way you perceive each experience along your journey, this is what will get you through even the toughest of times. This shift in perception is what is available through deep study of the Yogasūtra.
Your Teacher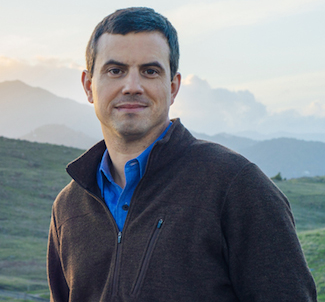 As a Philosophy Major in college Chase became very interested in Eastern thought. In addition to his formal education in religion, philosophy and Sanskrit, he followed this interest all over the world ultimately studying with Mr. TKV Desikachar.
All of the training Chase has received in Yoga has been in the lineage of Śri T. Krishnamacharya as passed on to his son Mr. TKV Desikachar. In total, he spent more than 4 years in Chennai studying one-on-one with Mr. Desikachar and his wife, observing therapeutic classes at the Krishnamacharya Yoga Mandiram (KYM) and participating in group trainings.

As the Director of the Yoga Well Institute, Chase has dedicated his life to continuing the lineage.
In order to create change within, you must commit to regular practice. At the Yoga Well Institute, we are committed to our students and ensuring this life changing work is available to all. If finances are the only thing preventing you from enrolling, we invite you complete our financial aid request form and we'll do our best to work with you.
Frequently Asked Questions
Should I read the Yogasūtra before taking this course?
Excellent question. It is required that you study both Chapters 1 and 2 with an instructor in the viniyoga tradition before enrolling to study Chapters 3 or 4 with the Yoga Well Institute. Since translations of the Yogasūtra can vary so widely, it is easy to get confused by reading several translations at the same time. We explicitly recommend not using any other translation of the Yogasūtra than what is provided by your Instructor (until one has a solid understanding of the entire text as whole from the vantage point of this lineage).
I don't have a mentor yet, how quickly can I get one?
We offer a free service to connect you to the ideal mentor for you. There will be a link to do this in your welcome email once you enroll. So long as you schedule your consultation (it's free) now you will meet the prerequisite for this course. It will take you between 2-5 weeks to actually connect with a mentor.
Should I go buy a copy of the book?
It is not necessary to own or pre-purchase a copy of Patañjali's Yogasūtra. In the Recommended Readings section of your Student Portal (you will get access as soon as you enroll) there are links to a few versions we recommend.
Do I have to watch or complete a class within a certain timeframe?
Nope! So long as you remain enrolled you will have access to the content. We recommend that you watch one a week, but it's totally up to you.
Do I need any special equipment or knowledge of technology?
Not at all. While it is highly recommended that you join classes live via a device with a webcamera, you can also simply dial in via the phone. Most tablets, smartphones and computers these days come with a webcam in them. As for being tech savvy, we strive to make our technology as intuitive as possible and are here to support you with any issues.
When will I get access to the course?
You will get access to the course videos and handouts immediately and access to the Private Online Community within days.
Will I be able to talk to other students and ask questions of the teachers?
Absolutely! However, this platform doesn't support the level of community we enjoy, so we use another tool to communicate. It's called Ryver (pronounced like River). Once you enroll you will get an invite to join us on along with a handy guide on how to use it.
How do I cancel?
Just contact our team via email and they will take care of you.
I changed my mind, may I have a refund?
If you signed up for the monthly option and contact our team within 7 days of your payment to cancel, you may also request a refund. We don't offer refunds for past months. If you sign up for the one-time payment option, you can contact our team to request cancellation and a refund within the first 30 days of purchase.
Who do I contact if I experience technical difficulties?
We've got you! You can contact the team at the Yoga Well Institute via email at any time with questions or technical issues. We also have some helpful guides for you that will be shared via email as soon as you register.