The Art of Intentionally Designed Experience
with Amanda Green
How to design an āsana practice with intention and care – application and theory.

The design and structure of a practice are important, you must consider not just the āsana and breath but also the flow and sequencing. Join this class to discover the art of intentionally designing a yoga experience for yourself and others.
You've probably been in a yoga class that rocked your world. You showed up feeling one way, and then over the course of an hour or so, your teacher guided you through postures, breathing and maybe even a theme or visualization that helped you to open, move, and change. One posture perfectly prepared you for the next, allowing you to do things that you couldn't do when you walked through the door. At the end of class, you felt different. You gained some insight. You connected to your body and breath. Your mind felt settled, quiet and focused. Maybe there was even hope, peace and joy as you reentered the world!
In contrast, there's the class that's not so dreamy and transformative.The postures feel like a grab bag of movements, disjointed and causing strain.There's not so much of an inward journey and there's less focus at the end. There may even be lingering pain.
How do we create classes that flow, respect the needs of the body, involve the breath and engage the mind? How do we design a class with a clear direction and anticipate the effect it might have? How do we give students an āsana experience that gives them a sense of what's possible in yoga? Though studying the art and science of intentionally designed yoga experience!
Your Teacher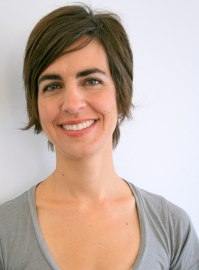 Amanda took her first yoga class in 2001 and has been practicing ever since. After moving from Seattle to Austin in 2010, she enrolled in a hatha yoga teacher-training program and soon after completion, she began teaching yoga full-time. Amanda met her teacher and mentor, Chase Bossart in 2011. At this time, her yoga practice took a turn toward a more gentle and therapeutic approach and her yoga study expanded to embrace the broader teachings of yoga. Yogic philosophy and texts, practices including āsana (postures), prāṇāyāma (breathing techniques), meditation, vedic chanting and the practical application of the tools of yoga for therapy are all a part of Amanda's ongoing practice and study.
Amanda's teaching style is down-to-earth, clear and practical. She candidly relates yogic concepts to life experiences. In this way, yoga practice becomes a deeply personal journey and a means to live a fulfilling and purposeful life.
Amanda is a graduate of the YATNA yoga therapy program and an IAYT-certified yoga therapist. She offers individual yoga therapy to students in Austin, TX and online. Amanda is a mentor to yoga therapy students in YogaWell and Yoga Yoga programs, and offers lectures and classes in her local and online community. When Amanda isn't teaching, you can find her hanging out with her awesome family, gardening, painting, or singing karaoke, usually out of tune.
This class will take you through foundational purposes and principles of āsana by covering the following topics:
Concepts from the Yoga Sūtras (ancient texts that provide direction on living a life of yoga)
How posture can emerge from and be instigated by the breath
How to see breath as our primary link to the spine
How to identify the primary function of a pose in a glance.
Why a carefully constructed sequence of postures matters to the body and human system at large
Discuss strength and flexibility requirements for frequently used āsana,
Discover the art of putting together a course that respects the needs of the body
If used as part of an intentionally and artfully designed experience, āsana can become a tool to open doorways to dimensions of our being that go far beyond the physical!
This class will begin on April 23, 2019 and run for 6 weeks, meeting live, online every Tuesday at 4pm PT / 7pm ET for one hour. Every class will be recorded and uploaded for replay within 48 hours, you will also have access to your teacher and peers via our private online community. That means that, even if this time doesn't work for your schedule, you can still take part and benefit from this teaching.
This class is a great opportunity for those who are new to course planning, new to this system of yoga, and those interested in improved proficiency with the tool of āsana. We will build on basic concepts and practice applying the principles we learn in class. It is recommended that students who enroll have a minimum of approximately 6 months experience working daily with a personal yoga practice that includes both āsana (poses), breathwork and meditation. You do not need to be a teacher. Neither do you need to know all the poses, their names, etc. we'll work that out together in the class.
So whether your an avid student of yoga or a Yoga Teacher, this class will support you in being able to apply the philosophical principles of yoga practice in a practical and profound way.
Check out our other classes, launching the same week, to see if there's another topic that would benefit your journey right now. The Psycho-Physiology of Breathing and Healing Through Yoga are both classes that would be wonderful complement to this course if you are just beginning to explore this world.
*Note, we require a minimum of 5 students for this class to launch. While we don't expect this to be an issue, if we have less than 5 we may cancel this class, if we do, we will of course issue a full refund.
Frequently Asked Questions
Are there any prerequisites to take this class?
It is recommended that students have a minimum of approximately 6 weeks experience working daily with a personal yoga practice that includes both āsana (poses), breathwork and meditation.
Do I need to buy anything to participate, books or food?
No additional materials are required to participate.
Can I take other classes in the Spring Semester?
Absolutely! We've designed the schedule so that none of our class times overlap.
What if I can't attend every class?
Not a problem. They will all be recorded and available to watch later.
How long do I have to complete the class?
Classes will occur weekly for 6 weeks. We know life happens so we will give you another 4 weeks to rewatch all of the videos etc before we close down the virtual classroom. This gives you a total of 10 weeks to complete the class.
Will there be homework?
Not homework, but there will be assignments. We believe in experiential learning, meaning you must apply it in your life, experience it, to truly integrate our teachings. During each class you will be given an experiential assignment to help you fully explore the teaching.
If I'm not a Yoga Teacher or Yoga Therapist will this class be over my head?
Not at all! However, you do want to be fairly experienced with your personal yoga practice. It will be helpful if you're somewhat familiar with common āsana (poses) and basic yoga terms. This is really aimed at someone who's contemplating becoming a Yoga Teacher or Therapist, if they're not one already.