INTRODUCTION TO SĀṀKHYA KĀRIKĀ
with Jorge Knak
The Sāṁkhya Kārikā is a foundational text in the study and practice of Yoga. Anyone who is seriously interested in Patañjali's Yogasūtra will eventually want to study and understand the Sāṁkhya Kārikā.
The Sāṁkhya Darśana (school of philosophy) is the source of many of the foundational concepts that Patañjali builds upon and develops in the Yogasūtra. They are so connected that Yoga and Sāṁkhya are considered 'sister schools' in which Sāṁkhya provides the theoretical foundation and Yoga the practical expression.
However, this idea is slightly misleading. The Sāṁkhya Kārikā does not only provide the philosophical basis for other Darśanas/schools (Yoga & Āyurveda). It also presents practical solutions as well. It both describes the structural basis of life, how living beings are organized, and why we suffer, etc. as well as explain how to come out of and end suffering. And in very interesting ways. It is a manual for meditation.
Finding a class on the Sāṁkya Kārikā is challenging to say the least! So we are very happy and excited to offer this rare opportunity to study this text. This introductory, 8 week overview, will provide a solid foundation for understanding and exploring the Sāṁkya Kārikā.
We recommend studying Patañjali's Yogasūtra first. Once you are familiar with how the Yogasūtra can influence your life and your Yoga practice, then studying the Sāṁkhya Kārikā is extremely rich and interesting.
For those who are registered with Yoga Alliance, this class qualifies for 10 Continuing Education credits in the Yoga Philosophy, Lifestyle & Ethics Category.
Your Teacher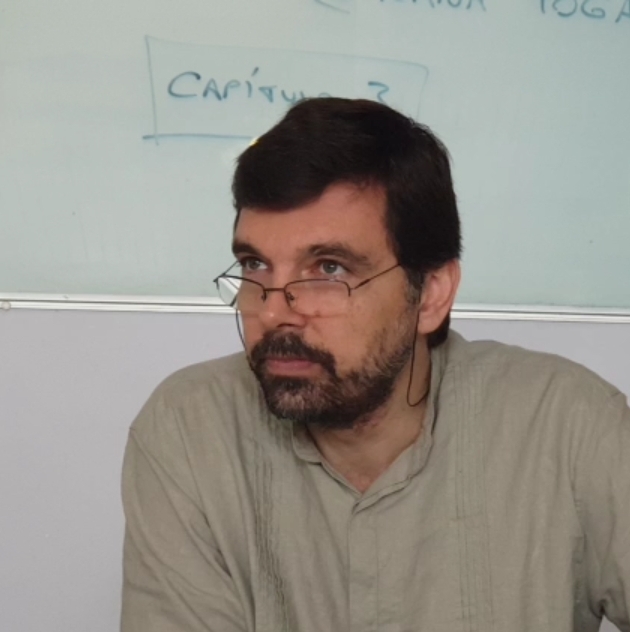 Jorge Luís Knak has been dedicated to yoga since 1994. He's studied Mr. Desikachar's teachings exclusively since 2001 And currently continues his studies in the same lineage under the regular guidance of Prof. Paul Harvey. He is the idealizer and founder of CITEY (Integrated College of Yoga Therapy and Education).
A presenter at international events on Yoga and Yoga Therapy, Jorge offers individual classes with a focus on the integrated, therapeutic approach of Yoga Psychology. For many years, he has coordinated, together with Maria Nazaré Cavalcanti, teacher training courses in the teachings of Mr. TKV Desikachar. Jorge is married, has 3 children and lives in Porto Alegre – Brazil.
The Sāṁkhya Kārikā is the oldest surviving text of the Sāṁkhya Darśana, which is one of the oldest and most important pillars of Indian thought and practice. It is an important foundation for both Yoga and Āyurveda. Studying the Sāṁkhya Kārikā is a great way to start exploring and understanding the Sāṁkhya Darśana. And it will have a big impact on your Yoga practice and teaching.
Topics we will explore during this 8 week course are:
The structure of human beings and the nature of our relationship with the world
The relationship between prakṛti and puruṣa that leads to a deeper experience of ourselves
The causes and nature of suffering (duḥkha) and how to reduce and then eliminate it
Awakening of truth (buddhi) and how to share it
The nature of the elements (mahābhūta) and their role in self-understanding
The relationship between identity (ahaṃkāra), our story, events and saṁskāras (mental marks)
The relationship between the Sāṁkhya tattvas (principles) and Yoga's step-by-step, practical process
How Sāṁkhya relates to meditation practices described in the Yoga Darśana.
This class will begin on Monday, September 30th and run for 8 weeks, meeting live, online every Monday at 3pm PT / 6pm ET for 60 minutes. Every class will be recorded and uploaded for replay within 48 hours, you will also have access to your teacher and peers via our private online community. That means that, even if this time doesn't work for your schedule, you can still take part and benefit from this teaching.
Again, this is a wonderful opportunity to get an overview of the Sāṁkya Kārikā and is recommended for students who have already invested time studying Patañjali's Yogasūtra. If you haven't yet done this, click here to join our mailing list and get notified when we host another Yogasūtra class.
The cost for this class is a one time payment of $150, that's less than $20 per class.
Check out our other classes, launching the same week, to see if there's another topic that would benefit your journey right now. Understanding Meditation Practice and Āsana Course Planning Fundamentals would both be a wonderful complement to this course if you are just beginning to explore this world.
*Note, we require a minimum of 5 students for this class to launch. While we don't expect this to be an issue, if we have less than 5 we may cancel this class, if we do, we will of course issue a full refund.
Explore other classes in this semester
Frequently Asked Questions
Are there any prerequisites to take this class?
It is best for students who have already spent a good amount of time studying Patañjali's Yogasūtra.
Do I need to buy anything to participate?
No additional materials are required to participate.
Can I take other classes in the Semester?
Absolutely! We've designed the schedule so that none of our class times overlap.
What if I can't attend every class?
Not a problem. They will all be recorded and available to watch later.
How long do I have to complete the class?
Classes will occur weekly for 8 weeks. We know life happens so we will give you another 4 weeks to rewatch all of the videos etc before we close down the virtual classroom. This gives you a total of 12 weeks to complete the class.
Will there be homework?
Not homework, but there will be assignments. We believe in experiential learning, meaning you must apply it in your life, experience it, to truly integrate our teachings. During each class you will be given an experiential assignment to help you fully explore the teaching.
Does this class qualify for Continuing Education Credits?
It does! It qualifies for Yoga Alliance CEs. We'll be in touch at the end of class with information on how to submit for them.