ĀYURVEDIC COOKING BASICS
with Akshaya Chinapa Reddy
Eating in line with Āyurveda has the ability to take your Yoga practice to the next level.

Through the use of both modalities you can begin to see how foods affect your state, and find yourself able to choose foods that support your practice and lead to a state of balance.
Exploring Āyurveda can be daunting. If you're not familiar with the spices, oils, lentils and grains it can quickly become overwhelming to prepare a meal. With a bit of education āyurvedic cooking can be quite simple.
There are many recipes common in Āyurveda that are so simple that they've been taken for granted in the Āyurveda community, making it difficult for someone new to their studies to find clear instructions on how to prepare them.
In this class you will be able to familiarize yourself with the spices, grains, lentils and produce used in common āyurvedic recipes. Leaving you with the ability to create a solid foundation of techniques and methods along with the confidence to cook healthful, delicious meals for yourself and your family.
You will discover how you can weave āyurvedic foods into your life, and gain a foundation for renewing balance from the inside out.
This will be a demonstration style class, your instructor will stream your classes live from her kitchen where she will show you various spices, ingredients and how to prepare them. You will be given the recipes so that you may try the preparation for yourself between classes.
Your Teacher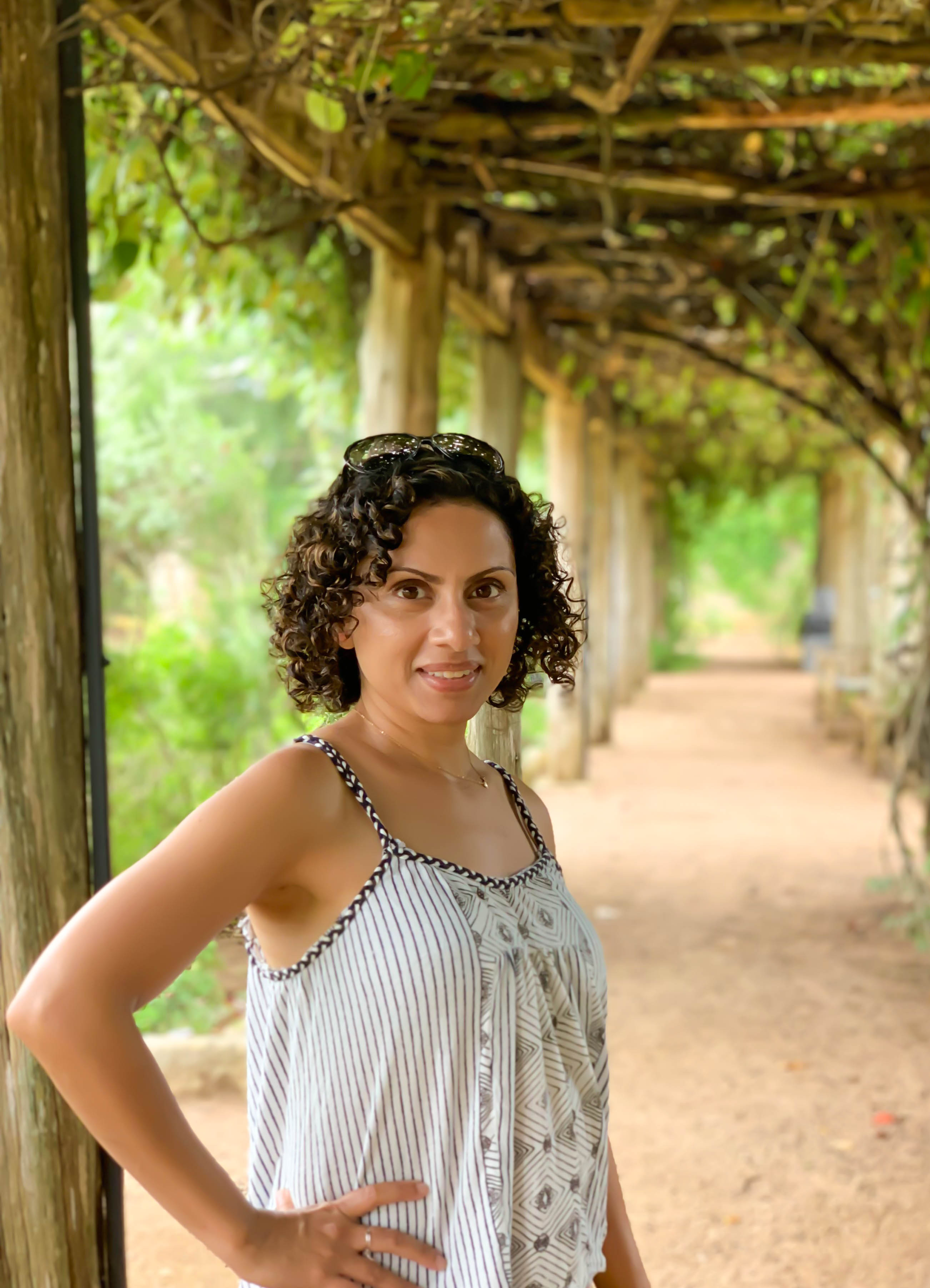 Akshaya comes from a lineage of home cooks, known for their delicious traditional meals. She grew up on savory home cooking - meat curries, dal, jams, pickles - all which carried the flavors of the land of her ancestors.
Born in India, Akshaya was raised in Dubai, she studied filmmaking in the US before moving to Canada for nine long winters and landed in Texas after marrying her husband. What does she have to show after all this moving around? "A very confusing accent", she says.
In 2008, she pursued a 200-hr Yoga teaching training, where she finally found a sense of being. She has stayed on the path of yoga, where she also discovered and studied ayurveda, and is deepening her studies as she trains to become a Yoga Therapist. Her life is full with two sons, two dogs, and one husband, she teaches yoga and cooking classes, occasionally writes, paints and also procrastinates a whole lot! She has a deep love for Indian culture, food and cooking, nature, photography, travel, rock music, and chai.
Many cooking courses and online recipes mix models - they mix Āyurveda with vegan, paleo, keto, gluten free, dairy free, etc, which can be a bit confusing if you're really wanting to learn about Āyurveda. In this class we will focus on authentic āyurvedic recipes, true to the principles of Āyurveda.
Through participation in this class you will:
Understand basic cooking techniques specific to Indian and āyurvedic cooking.
Be able to identify ingredients unique to āyurvedic cooking - spices, grains, lentils and more.
Make small adjustments to the recipes to meet your personal preferred flavor profile.
Make small adjustments to the recipes to meet you where you're at (known as vikruti if you are working with a practitioner).
Cook simple, homemade meals, from scratch, that are tasty and satisfying
Comfortable using techniques that can be applied to recipes outside of the course as well
This class will begin on Monday, September 30th and runs for 7 weeks, meeting live, online every Monday at 9am PT / 11am CT / 12pm ET for one hour. Every class will be recorded and uploaded for replay within 48 hours, you will also have access to your teacher and peers via our private online community. That means that, even if this time doesn't work for your schedule, you can still take part and benefit from this teaching.
This class is a great opportunity for those who are wanting to incorporate Āyurvedic Cooking into their lives and/or the Yoga practice.
The cost for this class is a one time payment of $150, that's less than $25 per class.
Check out our other classes, launching the same week, to see if there's another topic that would benefit your journey right now. Āyurveda Fall Self Care and Yoga, Eating & You would both be a wonderful complement to this course if you are just beginning to explore this world.
While this one does not, many of our classes qualify for Yoga Alliance CEs. If you are NAMA certified and interested in taking this class for PACE credits, please contact us for more information.
*Note, we require a minimum of 5 students for this class to launch. While we don't expect this to be an issue, if we have less than 5 we may cancel this class, if we do, we will of course issue a full refund.
Explore other classes in this semester
Frequently Asked Questions
Are there any prerequisites to take this class?
It will be helpful to be comfortable in a kitchen and familiar with basic āyurvedic concepts in order to be able to try the recipes for yourself between classes.
If I haven't studied Yoga or Āyurveda much, will this class be over my head?
Not at all! So long as you're familiar with the basic concepts of Āyurveda you will do just fine.
Do I need to buy anything to participate?
The average kitchen already contains the tools needed, however, to prepare the recipes for yourself you will need to purchase some basic food items and spices in order to prepare the recipes in your home between classes.
Can I take other classes in the Semester?
Absolutely! We've designed the schedule so that none of our class times overlap.
What if I can't attend every class?
Not a problem. They will all be recorded and available to watch later.
How long do I have to complete the class?
Classes will occur weekly for 7 weeks. We know life happens so we will give you another 5 weeks to rewatch all of the videos etc before we close down the virtual classroom. This gives you a total of 12 weeks to complete the class.
Will there be homework?
Not homework, but there will be assignments. We believe in experiential learning, meaning you must apply it in your life, experience it, to truly integrate our teachings. During each class you will be given an experiential assignment to help you fully explore the teaching.
Does this class qualify for Continuing Education Credits?
We're looking into this, If you're NAMA Certified and interested in PACE Credits, please contact us before enrolling. This class does not qualify for Yoga Alliance CEs.