ĀSANA COURSE
PLANNING FUNDAMENTALS
with Amanda Green
Designing toward a goal posture
This class will help yoga teachers develop thoughtful, safe, and effective āsana courses for students. In the first two weeks, we'll review key principles for course planning: breath in movement, vinyāsa krama, sthira sukha, strength and flexibility charts and categorization of postures. In the remaining six weeks, we'll learn to apply these ideas as we design specific courses toward a goal posture. We'll discuss a posture in detail, define the person or people who we are planning our class for, and then each student will design and turn in their course to Amanda. In the following class, we will explore and discuss the different ways that we can arrive at our goal.
This class is for yoga teachers or yoga therapists with some background in viniyoga principles, looking for hands on practice in designing āsana courses. There will be 30-60 minutes of homework between weeks 2 and 8. Your homework will be central to your learning and our class discussions.
For those who are registered with Yoga Alliance, this class qualifies for 12 Teaching Method Continuing Education credits.
Your Teacher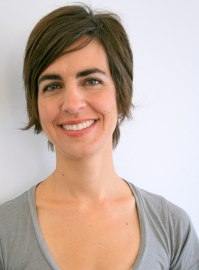 Amanda took her first yoga class in 2001 and has been practicing ever since. After moving from Seattle to Austin in 2010, she enrolled in a hatha yoga teacher-training program and soon after completion, she began teaching yoga full-time. Amanda met her teacher and mentor, Chase Bossart in 2011. At this time, her yoga practice took a turn toward a more gentle and therapeutic approach and her yoga study expanded to embrace the broader teachings of yoga. Yogic philosophy and texts, practices including āsana (postures), prāṇāyāma (breathing techniques), meditation, vedic chanting and the practical application of the tools of yoga for therapy are all a part of Amanda's ongoing practice and study.
Amanda's teaching style is down-to-earth, clear and practical. She candidly relates yogic concepts to life experiences. In this way, yoga practice becomes a deeply personal journey and a means to live a fulfilling and purposeful life.
Amanda is a graduate of the YATNA yoga therapy program and an IAYT-certified yoga therapist. She offers individual yoga therapy to students in Austin, TX and online. Amanda is a mentor to yoga therapy students in YogaWell and Yoga Yoga programs, and offers lectures and classes in her local and online community. When Amanda isn't teaching, you can find her hanging out with her awesome family, gardening, painting, or singing karaoke, usually out of tune.
We have discovered that to fully integrate and embrace Course Planning, it is helpful to write up practices, receive feedback and get a sense of how other teachers structure and approach a posture. This class will give you an opportunity to do just that, this is a class of application, you will be actualing creating Course Plans, receiving feedback and putting concepts into action.
Once you complete this class you will be able to:
Write simple practices to build to a goal posture
Apply course planning principles to teaching āsana
Increased confidence in your teaching
Every aspect of your class supports your goal
Develop clear, concise class plans
Learn to safely and effectively prepare students for a goal pose
This class will begin on Tuesday, October 1st and run for 9 weeks, meeting live, online every Tuesday (except October 22) at 4pm PT / 6pm CT / 7pm ET for 75 minutes. Every class will be recorded and uploaded for replay within 48 hours, you will also have access to your teacher and peers via our private online community. That means that, even if this time doesn't work for your schedule, you can still take part and benefit from this teaching.
This class is great for Yoga Teachers interested in working one-on-one with students as well as current Yoga Therapist Students. To keep up with this class you will need familiarity with key concepts like vinyasa krama, IN/EX technique, Posture classification (spinal), preparation postures and counter poses, and utilizing the Strength and Flexibility Chart. Some familiarity with sanskrit names of postures is helpful but certainly not required.
The cost for this class is a one time payment of $150, that's less than $20 per class.
Check out our other classes, launching the same week, to see if there's another topic that would benefit your journey right now. Introduction to Sāṁkhya Kārikā and The Art of Helping would both be a wonderful complement to this course if you are just beginning to explore this world.
*Note, we require a minimum of 5 students for this class to launch. While we don't expect this to be an issue, if we have less than 5 we may cancel this class, if we do, we will of course issue a full refund.
Explore other classes in this semester
Frequently Asked Questions
Are there any prerequisites to take this class?
It is designed for Yoga Therapists, Yoga Therapist Students and Yoga Teachers.
Do I need to buy anything to participate?
No additional materials are required to participate. We will provide recommendations of books you might purchase to continue your study.
Can I take other classes in the Semester?
Absolutely! We've designed the schedule so that none of our class times overlap.
What if I can't attend every class?
Not a problem. They will all be recorded and available to watch later.
How long do I have to complete the class?
Classes will occur weekly for 8 weeks. We know life happens so we will give you another 4 weeks to rewatch all of the videos etc before we close down the virtual classroom. This gives you a total of 12 weeks to complete the class.
Will there be homework?
Yes, you should plan to spend 30-60 minutes on homework each week between classes.
Does this class qualify for Continuing Education Credits?
It does! It qualifies for Yoga Alliance CEs. We'll be in touch at the end of class with information on how to submit for them.